ANNOUNCEMENTS



MY COLUMN IN AUDUBON MAGAZINE'S ONLINE EDITION

I now have a series of articles in the online edition of Audubon Magazine. They're geared toward beginners and are very short. If you're a beginner looking for a quick, non-technical introduction to bird photography techniques, that's a good place to start.

MY INTERVIEW IN "POPULAR PHOTOGRAPHY" MAGAZINE
The June 2015 issue of Popular Photography magazine features a short article on bird photography, with interviews from three bird photographers including myself.

NEW TRIP REPORT POSTED
My newest trip report is now live
—
Magee Marsh 2013. It includes many photos and photography tips. This was one of the very best birding trips I've ever taken, and I'm looking forward to going back again next year (if I can afford it). If you've never been to Magee Marsh, you should consider going.

PLEASE CALIBRATE YOUR MONITOR!
In order to get the most out of the illustrations in this book
—
and in order to make sure that others see

your

photos the way

you

see them on

your

computer
—
you need to make sure your monitor is properly calibrated. The calibration key below provides a quick way to assess your monitor's calibration. If any of the gray bars have a red/green/blue color cast, or if any two bars appear indistinct (particularly bars #1 and #2), then you need to calibrate your monitor. Section 14.1.2 will tell you how.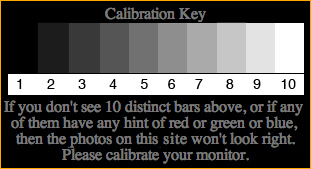 CURRENT STATS
The web edition is currently at 16 chapters, comprising 97 sections and 266,588 words, with 662 illustrations. When printed in 12-point font it comes to 926 pages. Monthly page views for 2010 are shown below; these are obviously highly outdated, but the newest numbers continue the upward trend.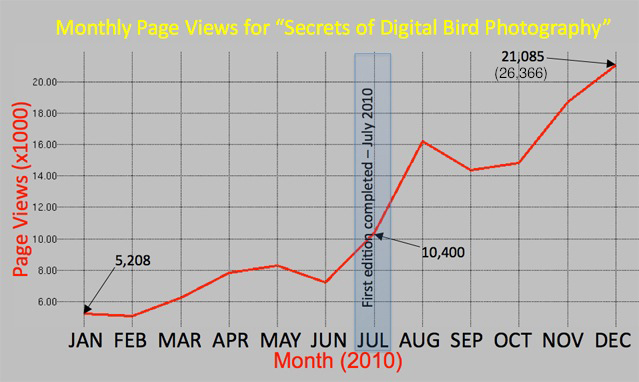 PRINT EDITION
Many readers have asked—and continue to ask—when a print edition will become available. Unfortunately, due to the extreme length (900+ pages), publishing this work as a full-color print edition is simply not economically feasible. The author is familiar with self-publishing options such as Lulu and Blurb (which have their own shortcomings, particularly in cost and printing quality). The advantage of web publishing over print, however, is that the web version can be updated and corrected as needed. For that reason, the author has opted not to produce a print edition.

DONATIONS
The author of this book is currently a full-time PhD student with limited time and resources, making maintaining of this free web site a challenge. If you find this resource useful, please consider making a donation to the author to help defray the cost of hosting this site. You can now donate via PayPal. See the "donations" link in the sidebar at the left (you may need to scroll up this page to see the sidebar).


Thanks to everyone who has donated so far! Your donations are extremely valued, both by me and by the other readers who benefit from continued access to this site; your financial support is what keeps this site going. I'm also the maintainer of MageeMarsh.Org, so your donations help to keep that site going as well. As a full-time graduate student I wouldn't be able to afford to run these sites without your help, so THANK YOU!
---
You can proceed to the table of contents by clicking the link below: